Kentucky Huddle
January 21 @ 12:00 pm

-

January 22 @ 12:00 pm

Free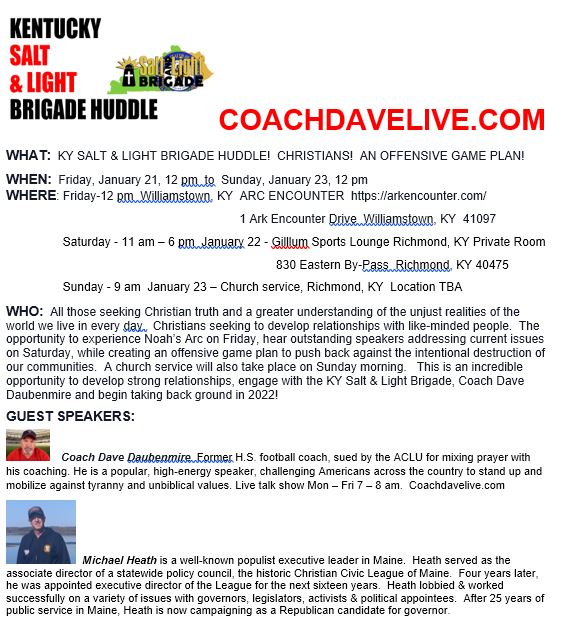 WHAT:  KY SALT & LIGHT BRIGADE HUDDLE!  CHRISTIANS!  AN OFFENSIVE GAME PLAN!
WHEN:  Friday, January 21, 12:00 PM (Central)  to  Sunday, January 23, 12:00 PM (Central)
WHERE: Friday-12 pm  Williamstown, KY  ARK ENCOUNTER  https://arkencounter.com/
1 Ark Encounter Drive  Williamstown, KY  41097
Saturday – 11:00 AM  – 6:00 (Central)  January 22 – Gilllum Sports Lounge Richmond, KY Private Room
830 Eastern By-Pass  Richmond, KY 40475
Sunday – 9:00 AM (Central) January 23 – Church service, Richmond, KY  Location TBA
WHO:  All those seeking Christian truth and a greater understanding of the unjust realities of the world we live in every day.  Christians seeking to develop relationships with like-minded people.  The opportunity to experience Noah's Arc on Friday, hear outstanding speakers addressing current issues on Saturday, while creating an offensive game plan to push back against the intentional destruction of our communities.  A church service will also take place on Sunday morning.   This is an incredible opportunity to develop strong relationships, engage with the KY Salt & Light Brigade, Coach Dave Daubenmire and begin taking back ground in 2022!
GUEST SPEAKERS: Coach Dave Daubenmire  Former H.S. football coach, sued by the ACLU for mixing prayer with his coaching. He is a popular, high-energy speaker, challenging Americans across the country to stand up and mobilize against tyranny and unbiblical values. Live talk show Mon – Fri 7 – 8 am.  Coachdavelive.com
Michael Heath is a well-known populist executive leader in Maine.  Heath served as the associate director of a statewide policy council, the historic Christian Civic League of Maine.  Four years later, he was appointed executive director of the League for the next sixteen years.  Heath lobbied & worked successfully on a variety of issues with governors, legislators, activists & political appointees.  After 25 years of public service in Maine, Heath is now campaigning as a Republican candidate for governor.