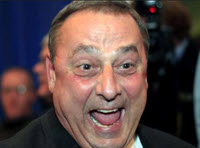 Amidst speculation that former Governor — now a Florida bartender — Paul LePage, is going to attempt to unseat Jezebel Janet Mills a prominent political name from Maine's recent past is emerging as a potential rival to LePage's ambitions. The Republican Primary will not begin until next year. The election is scheduled for June of 2022.
Michael Stuart Heath served as a lobbyist, and in statewide executive leadership, for over two decades. He is well known as an honorable man who stands by his convictions. He is the only candidate officially registered with the Ethics Commission as a rival to Mills, and LePage, if he chooses to run. LePage will have to defeat Heath in the Republican Primary.
Heath's Campaign Manager, Paul Madore, says, "LePage cannot win." Madore is well known for his statewide political activism over the past three decades. He headed Ron Paul's successful Presidential effort in 2012. "I like Paul LePage. We grew up together in Lewiston, and we're the same age. Paul did a great job as Governor for eight years. But he doesn't have what it's going to take to defeat the communist democrats next year."
The people of Maine are looking for a complete explanation for what they've been dealing with under the authoritarian dictatorship of Janet Mills.
"I'm the man to provide that explanation." Heath declared. "As the world confronts pressure to conform to the demands of global communists direct, informed, clear and bold leadership is required. We all now understand the stakes in this war. We must pray this war remains political and cultural. If we allow our politics to fail many more will die."
From the beginning Heath was skeptical of the Covid lie. "I always felt it was more politics than science. I'm more convinced of that now than ever." He said.
He continued, "I'll never take the vaccine."
The motto of Heath's Campaign for Governor is "Let's Get to Work!"
HeathforGovernor.com Website is LIVE
In addition to launching proprietary versions of Twitter called "michaelheath.social" and "heathforgovernor.social" the Heath for Governor Campaign today announced the presence of an online home for the effort. People interested in viewing the website as it develops can go to https://heathforgovernor.com Online donations are coming in.
"I'm pleased that we can receive cryptocurrency donations!" Exclaimed Campaign Manager, Paul Madore. "The site is looking real good. We are assembling an impressive team of capable professionals and volunteers."
The website features a video by the candidate, Michael Stuart Heath. Designed to fit the attention span of the internet age the video is less than one minute long. It is hosted on a proprietary video streaming platform that the Campaign owns and controls.
"Everything we do online is owned by us." Heath observed. "We know that cancel culture is gunning for this Campaign. We're ready for them."
The Campaign in registering volunteers to manage the swelling number of social platforms that are appearing as a result of Big Tech censorship.
Heath Attacks Fake Media
Only one article has appeared about the Campaign in Maine Media in the past couple months. It was a boring attack piece designed by Maine's Pravda style media to pigeon hole the Campaign as a single issue effort.
"The Fake Media will make tons of money on my Campaign." Declared the youthful looking 59 year old gubernatorial candidate, Michael Stuart Heath. "They would never leave so much money on the table."
Donald Trump was great for the national and international Fake News. They're communism-inspired Leftist agenda is falling on hard times now that they don't have the successful businessman to kick around anymore.
The Covid agenda is falling apart in the United States. Nearly fifty percent of Trump's supporters are not going to get the injection. States are walking away from Biden's lockdowns and fear mongering.
Mainers are furious about Jezebel Janet's authoritarianism. Unfortunately, until now there hasn't been any credible resistance to her. Maine's Republican Party has never been more pathetic and powerless than it is today.
"We're going to change that." Paul Madore said. "Grassroots activists have created a solid written platform for the Party in recent decades. Maine people are going to flock to it as our Campaign gets up a head of steam."
Authorized and Paid for by the Heath for Governor Campaign. Paul Madore, Treasurer.